When it comes to cleaning your kitchen efficiently, it's essential that you use effective techniques that will remove all the grease, grime, and dirt from the heart of your home. Since this is the area where you prepare your meals, it goes without saying that it should be properly and frequently cleaned.
However, this entails performing a range of cleaning tasks, from disinfecting the kitchen sink to cleaning the cabinets. Unfortunately, some homeowners don't have enough time to deal with everything in detail, which is why they decide to hire experienced professionals who offer comprehensive maid service in Spanish Fort.
Nonetheless, even if you decide to book cleaning services, you should still know how to make your kitchen sparkle and ensure the highest hygiene levels in your home.
How do you clean grease and grime off kitchen cabinets?
Kitchen cabinets often have a lot of stains from grease and grime since they're typically placed close to the stove. This can make your entire kitchen look unsightly and unhygienic. Luckily, there are a few ways to clean those nasty stains and give your kitchen cabinets a fresh, clean look:
Use vinegar for cleaning. This is a common household ingredient that can work wonders for making your kitchen sparkle. You can use it to remove grease from your cabinets. Just use a dry cloth damp with vinegar and then wipe the cabinets. Afterward, use warm water to rinse the cloth and remove vinegar residue.
Mix dish soap and water. This is another effective cleaner for removing grease and grime from your cabinets. Just use a sponge and dip it into the mixture just enough to make it damp. Clean water will rinse off the residue while a microfiber rag will dry out the surface.
Rely on baking soda and water. If the stains are really stubborn, you should use baking soda mixed with water (50-50). This mixture will effectively remove the stains, but make sure to use a clean microfiber cloth and circular motions. Dry out the surface with a clean cloth.
Dry out properly. This is an important part of the process because it will prevent the swelling of the wood. So, make sure to be detailed when drying out your kitchen cabinets.
How do you clean and shine wood cabinets?
Wood kitchen cabinets are a timeless design element that will never go out of style. However, when it comes to cleaning, they require a careful approach to make them sparkle without damaging the surface or causing the wood to swell.
So, you need to be extra attentive when cleaning your chic wood cabinets. Here's how to clean them properly:
Use a specialized wood cleaner to remove stains.
Get a soft cloth that won't damage the surface.
Use a soft toothbrush for the hardware and the areas around it.
Remove the cleaner residue with a clean cloth.
Dry out the wood thoroughly.
What to clean inside kitchen cabinets with?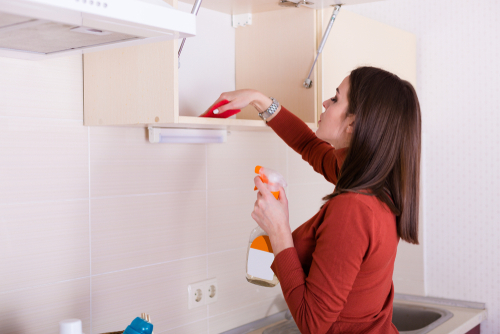 Cleaning the inside of your kitchen cabinets is as important as scrubbing their exterior surface. However, this doesn't have to be done as frequently because the interior isn't exposed to too much dirt.
When tackling this task, you should follow these steps:
First, empty the cabinets. If necessary and possible, you can also remove the shelves.
Vacuum the interior. You don't have to do this if there are no crumbs or food residue in your cabinets.
Wipe the interior. You can use warm water mixed with dish soap or some other cleaner. Vinegar can also be a great choice for disinfecting the interior.
Grab a clean, damp cloth. Use it to rinse the interior of the cabinets.
Use a new cloth. Dry out the interior thoroughly, making sure that there's no water left.
Leave kitchen cleaning to the best maid service experts in Spanish Fort
You don't have to deal with all the grime, grease and stains in your kitchen. Instead, you can have a picnic at Meaher State Park with the people you love. And what about cleaning? Don't you worry because Maids à la Mode will send the best cleaning crew in Spanish Fort to handle your kitchen cleaning tasks and general home cleaning.
We work with the most qualified, experienced and professional cleaners in the area. With them, you also have security because they're fully insured. What's more, they use safe, eco-friendly cleaning products, so your home will be both clean and healthy.
Whether you want to fill your bathroom with a fresh scent or minimize the risk of mold under your carpets, you can rely on the experts we send. Contact us today and we'll dispatch a team before you know it!