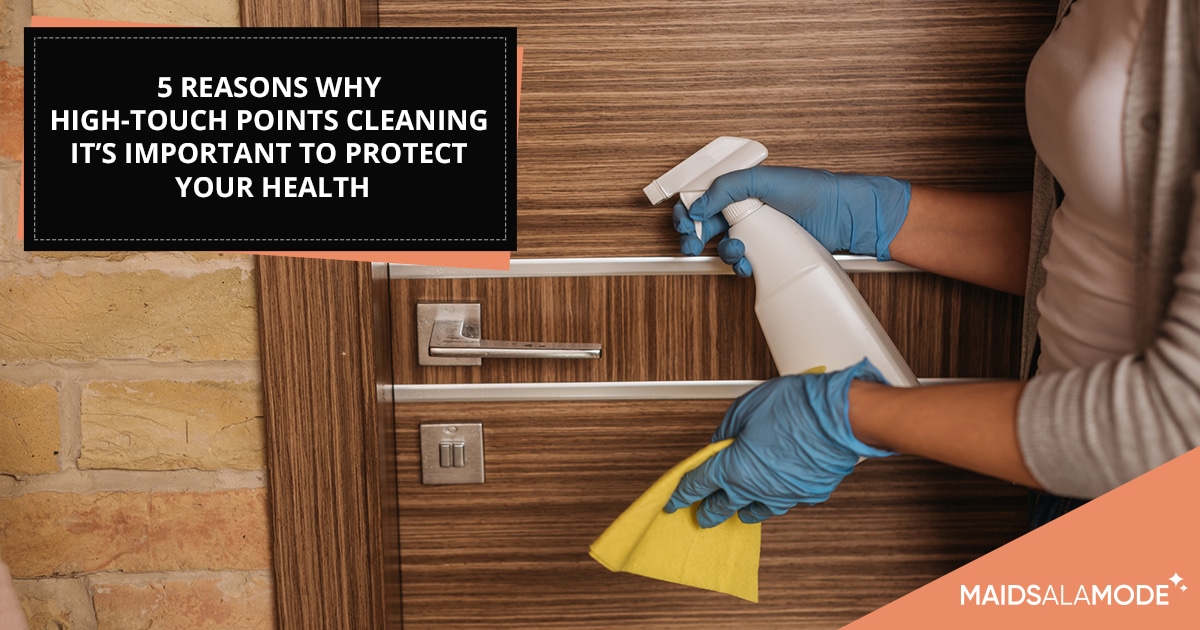 You probably already heard of high touch points cleaning. If you haven't, here it is: In a few words, it's a strategic method to disinfect homes fast and easy and reduce your risk of getting COVID-19 or any type of infection, considerably. Keep reading to discover five reasons why high-touch points cleaning works.
Disinfecting high touch surfaces is effective.
A high touch spot is any object or surface you and your family touch frequently, like doorknobs, faucets, light switches, dinner tables, chair arms, and electronic appliances like keyboards and computer mouses. What's the first object that you touch just after coming home? That's right, the doorknob. It's very easy to carry germs and other pathogens from the outside world and into your home. Cleaning and disinfecting these high touch surfaces will eliminate that risk. But you have to do it frequently, just as often as you go out.
A full cleaning is time-consuming.
Perhaps, sanitizing every inch of your home could give you peace of mind, but there's another way to protect your health and your family's. If you're careful and follow the guidelines that experts recommend, like not touching your face, disinfecting the groceries, and putting away your dirty clothes right after arriving home, your home wouldn't need a top-to-bottom cleaning (at least not so frequently). Just focusing on the high touch surfaces, the areas that you can't avoid touching, is an excellent strategy to maintain your home sanitized and without investing too much money and time.
Every day you touch the same objects.
Although we can find similar patterns in all houses, every family has different routines and objects. Identify the most touched objects in your home like the car keys, the tablet or cellphone, cupboard drawers and handles, maybe your favorite spot to sit or the book you're reading. If you touch them every day, then add them to your high touch list. Just by giving proper and quick disinfection regularly, you will be safer.
It prevents cross-contamination
Cross-contamination is "the process by which bacteria or other microorganisms are unintentionally transferred from one substance or object to another." We can easily cross-contaminate our doorknobs, light switches, faucets, and even our groceries and crockery if we don't disinfect our high-touch surfaces frequently. Think about it: you arrive home and wash your hands, but the doorknob that you touch is dirty, and you start touching other things in your home. Keep a bottle of disinfectant near and a clean cloth to make a quick wiping to your door.
Stay safe even during home gatherings.
As time passes, we are slowly returning to our old way of living but within the limits of "the new normal." Small family gatherings are usual practice in these times, moments where you can relax and contact your loved ones. But besides keeping your distance, during these events, it's crucial to disinfect (before and after) your high-touch areas. Of course, not touching your face is still the best way to avoid getting infected.
Keep following the preventive measures and stay safe. Remember that Maids a la Mode provides the cleaning and disinfecting services focused on high-touch points. Book your service online.