Being a mom is not an easy job, especially if you consider that aside from taking care of your children, going to work, you also need to keep your home well-maintained week after week. If all of this becomes too overwhelming at one point, count on professional house cleaning services in Mobile, or the area, to help you out.
The seasoned cleaning professionals will know how to tackle different cleaning challenges and keep your home virus-free during the ongoing COVID-19 pandemic. Besides hiring experts, you may also ask other family members for help and share the household chores with your partner. This will turn an otherwise tiring cleaning experience into a fun one, and your whole family will be able to contribute to keeping your house safe and healthy.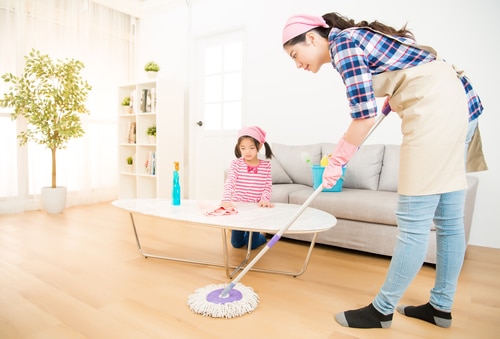 How do moms keep a clean house?
As a mom, you need to use different tips & tricks to manage to complete all your obligations on time and also give your home a proper scrub. These useful how-tos can definitely help you step up your game and be a super mom that you are:
Declutter your home every day: Instead of letting the mess pile up and cause you a nervous breakdown once you start cleaning, declutter your home every day. This little-by-little approach will make the task much easier to handle.
Build a routine: If you create a weekly or monthly cleaning routine, you won't have to waste much time planning, and you'll get your chores done quicker.
Stock up on supplies: Managing to squeeze in cleaning chores into your hectic schedule is already hard enough, so you should at least make sure to stock up on all the necessary tools and supplies in advance. This will make your job much easier and save you a lot of time.
Ask your children to help you: In order to get the most out of your kids' help, you need to assign them with age-appropriate cleaning chores. This way, you'll ensure that they can perform them safely, feel encouraged to assist you, and learn how to clean after themselves. Engaging your children in cleaning activities may also help their motor skills development.
How to keep the house clean with little kids?
Keeping your home clean with little children can be possible after all. You just need to stay persistent and follow these simple tips that can make your life much easier:
Don't buy more toys for your children than they actually need. If their room is stacked up with them, you won't stand a chance against all that clutter. Also, if you notice that they've outgrown some of the toys, instead of hoarding them, you can donate them to the nearest foster home.
Wake up before them. Being a mom means that you need to be an early bird. Waking up an hour, or two, before your children will allow you to take care of the mess from the previous day in peace and quiet. And, if you finish everything early, you'll even manage to grab some time for yourself and recharge your batteries before the day starts.
Be flexible. Sometimes things won't go as you've planned, but you shouldn't beat yourself up over it. If your child comes down with the flu and you feel too tired to do laundry after a sleepless night, give yourself a break. After all, you can always call professional cleaners to give you a hand.
Looking for reliable house cleaning services in Mobile or the area?
Today is your lucky day – Maids à la Mode is ready to answer your call! We are a locally owned company located just a short drive away from delightful Harmon Park, and our services are available across the town and the area.
Even super moms need some help from time to time, and we are here to accommodate your every need and provide you with a customized cleaning package that checks off all the boxes. Besides a standard cleaning package, you can schedule deep cleaning with us, or opt for our specialized services, including move-in/move-out cleaning, post-construction, and rental properties cleaning services. Let us help you live better.