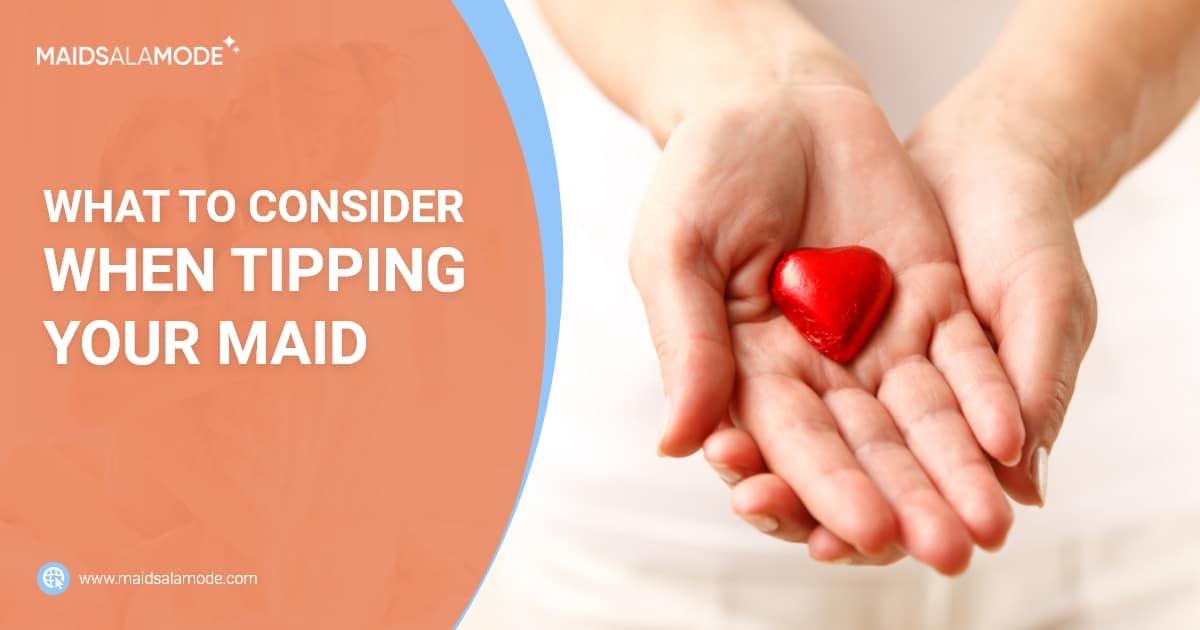 If you need help with your home cleaning and you're ready to trust someone else to take care of it, hiring a home cleaning service is always a wise choice.
Certified house cleaners are known for their hard work and quality service. However, when they're part of a larger company, it's unclear if tips are welcome.
If you don't know if you should tip a maid, we'll tell you some things to consider, along with some advice on tipping etiquette.
Are tips welcome?
When part of a cleaning company, housemaids do make a living wage. At Maids à la Mode, we have great perks for our cleaners, so don't worry in this regard. We encourage you to tip your maid as a way to thank them for their excellent work.
However, it's okay if you don't feel like giving a tip.
How much to tip a maid?
If you choose to tip, but you're unsure how much to offer, here are a few pointers:
Not all cleaning jobs will require the same effort or cost you the same, so it's uneven to go by a set amount for tips. Percentages are easier because they're proportionate and fair.

Not really set in stone, but a rule of thumb says the equivalent of 15-20% from the cleaning bill in tips is more or less how it goes, much like when you tip a waiter.

You can give the minimum percentage from the said range depending on where you live. For example, Alabama has lower housing costs than Chicago or New York. Tips are expected higher in bigger cities.

If it's a special request like an extra task not included on the cleaning package or a more complicated task, such as deep cleaning an unusually messy home, by all means, tip more. Some people give twice the usual or just top it off with a set amount like 20 or 50 dollars as a bonus.

In the end, you decide. See tipping as a token of appreciation, nothing less.
When is it appropriate to tip?
For one-time cleaning, it's always a good idea to tip. If you're happy with the service, you'll want recurring cleaning. If you've managed to get services from the same maid, you can tip once a month or every couple of cleaning visits. 
Besides tipping extra in cash during holidays, you can treat your maid to a small present to show your appreciation at the end of the year.
Where to leave a tip?
It could get awkward not knowing where to leave a tip inside your house. The standard way is handing over the money to your maid, but if you don't like how handing out bills looks, you can put the money inside an envelope.
You can also leave the tip on the table; there's nothing wrong with that. Leave a note if you aren't home by the time the service is done. And remember, always thank your maid for their services. 
Now that you know more about tipping for cleaning services, make sure you get the best cleaners in Mobile Bay, Alabama. At Maids à la Mode, we have transparent, flat-rate pricing, so you'll know easier how much to tip. Book now and find time to do what you love.