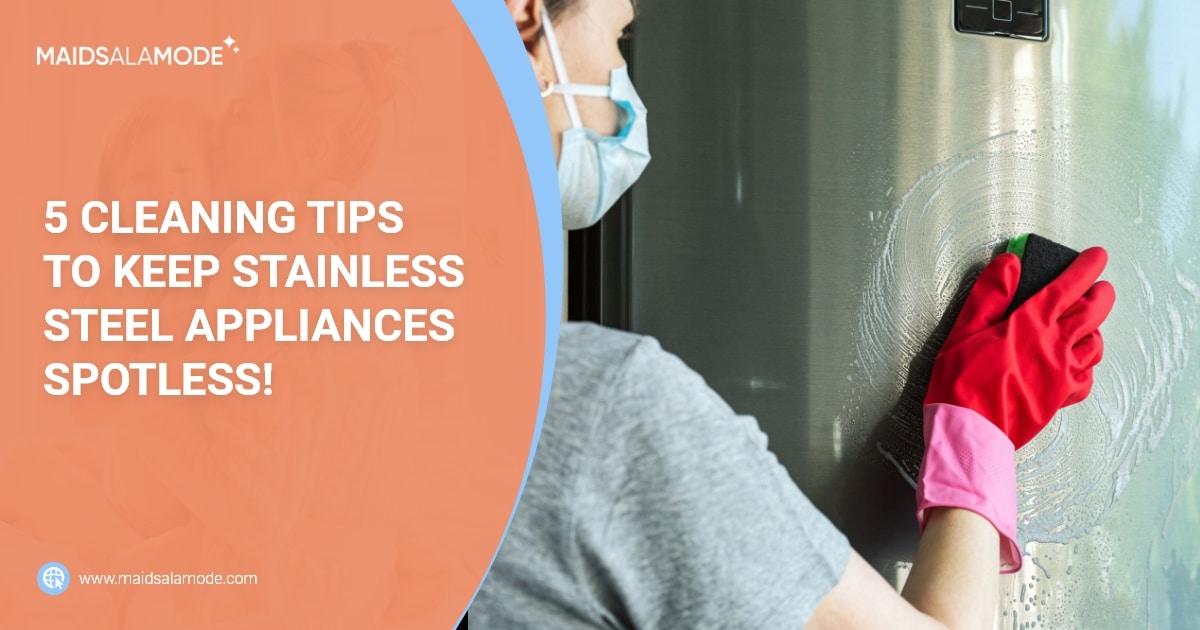 Stainless steel looks great, but that's not the main reason why it's widely used for kitchen appliances and cookware. Besides its looks, stainless steel resists corrosion and heat like no other material. However, it still needs constant cleaning.
Are you ready to wipe the fridge, microwave, stove, or any other stainless steel appliance in your home? Here are five tips to make sure you get the best results!
Tip #1. Find the right method for each surface
Even if many of your appliances are made of stainless steel, each surface is different. Some appliances might streak more than others, or maybe some require more elbow grease. Keep in mind that each surface needs its own cleaning tricks!
Tip #2. Follow the grain while you wipe
Stainless steel has a grain. Before starting with the wiping, look closely at the surface to find it. 
Usually, wiping in the direction of the grain makes the cleaning easier. On the other hand, when you wipe against the grain, streaks and residue may appear on your appliance once it dries completely!
Tip #3. Stick to soft cloths and sponges
Stainless steel is resistant, but you can still damage it! Even when there are tough stains and buildup on your appliances, you are better off sticking to a soft cloth to clean it. Avoid stiff brushes, steel wool, or abrasive pads if you want to get a perfect finish for decades.
Tip #4. Water is enough for lightly stained surfaces
Some homeowners are ready to bring their heaviest arsenal for cleaning. However, the best cleaner for other types of surfaces might not be good for stainless steel.
Instead of all-purpose cleaners or disinfectants, you could use water and a high-quality cloth to clean lightly stained appliances. In fact, common household cleaning products like bleach might damage the stainless steel's finish.
Tip #5. Use dish soap and baby oil for deeper cleaning 
If your appliances are dirty, water might not be enough to remove the stains. However, you don't need powerful and harsh cleaning supplies! Dish soap is enough to remove the grime—and baby oil can give the surface a nice shine.
Here are the steps:
Place a small amount of dish soap on a soft cloth (you'll need another cloth for polishing!)

Damp the cloth and wipe the surface following the grain.

Wash the cloth and use it to rinse off the soap. It's the same as the previous step, but with plain water.

Place a few drops of baby oil onto a clean cloth and buff the surface. You should also follow the grain during this step. Once you have polished the appliance, remove excess oil with a clean section of the cloth.
Also:
If you are into natural DIY products, you can use a 50/50 vinegar solution instead of dish soap.
Don't you have enough time for cleaning?
Hire a cleaning service today!
Maids à la Mode offers high-quality cleaning services to Mobile homeowners. Our cleaners are ready to amaze you with safe cleaning products, effective cleaning techniques, and the best results. Book your service directly from our homepage and forget about cleaning!