As a part of everyday routine, cleaning often becomes a tiring task that few people enjoy doing. Yet, it's a crucial one for keeping a fresh and healthy home. Luckily, nowadays, there's nothing simpler than outsourcing your chores to the experts for maid service in Daphne, AL.
So, if you've decided to have a more enjoyable lifestyle, you just need to find out how to book top-notch maid services and there are many beneficial reasons why you should hire a cleaner. Once you opt for a reliable cleaning company, you'll finally be able to enjoy relaxing, cleaning-free days.
What do house cleaning services do?
The first step to hiring the best cleaning experts in Daphne is to find out what cleaning services actually entail. This way, you'll know what to expect from your cleaners and consider your cleaning needs.
So, what is it that professional cleaning services actually do? Well, the scope of their work, approach, methods, cleaning products, and other cleaning aspects may vary from one company to another.
Nonetheless, reputable cleaning professionals typically render different types of cleaning services that include:
Basic house cleaning
Deep house cleaning
Move in/out cleaning
Post-construction cleaning
Rental property cleaning
Airbnb/vacation rental cleaning
Commercial cleaning
Green cleaning
Each of these services consists of a range of different tasks, so you should consider which one will meet your needs. Depending on your preferences, you can discuss any additional requests with your cleaning team. If possible, they will tailor their cleaning approach, employing green cleaning methods that can help create a healthy atmosphere in your home.
What else can house cleaning services offer?
If you're wondering what cleaning services do, you should go beyond the areas that your cleaners will clean. Aside from specific cleaning tasks, your house cleaning experts will also:
Enable you to book recurring services on a weekly, bi-weekly and monthly basis depending on your needs.
Provide you with valuable discounts for repeated services that will help you save money in the long run.
Ensure that your house is cleaned to the highest standards, addressing any possible issues within 24 hours.
Personalize your cleaning experience so that your home can be cleaned up to the highest industry standards.
Bring you flexible, convenient scheduling that will help you make the most of your free time that you can spend enjoying the Daphne Art Center or taking up a new hobby.
Come fully equipped with their own cleaning supplies, yet be willing to use those that you provide per your request.
From tackling your household chores with utmost care and precision to providing you with the aforementioned perks and advantages, all of this should be covered by your reliable cleaning professionals.
 What is included in a basic house cleaning?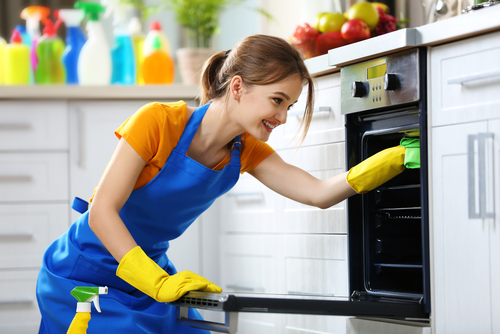 Basic house cleaning is one of the most commonly booked services among homeowners. They can be scheduled on a regular basis, enabling you to keep your home clean and healthy at all times. Unlike deep cleaning, this type of cleaning covers a more limited number of cleaning tasks, but it can still make your home immaculate.
Typically, during a basic cleaning session, your cleaning professional will tackle chores in the following areas:
Kitchen
Bathroom
Living room
Dining room
Bedrooms
Laundry room
Should you decide that some of the areas in your home should be skipped, you can discuss this with your cleaners. Also, depending on the cleaning provider you hire, you may be able to include certain service add-ons into your basic home cleaning package.
In need of unmatched maid service experts in Daphne, AL? Say no more!
Just contact Maids à la Mode and we'll dispatch a cleaning team like no other. We work with the best cleaning professionals in the entire area who will employ dependable cleaning techniques to make your home sparkle.
Aside from hassle-free booking, pricing that guarantees value, and premier customer service, with us, you can always count on trusted cleaners who've passed our stringent vetting process. Let them prove to you why they're the #1 choice of residents across the region!