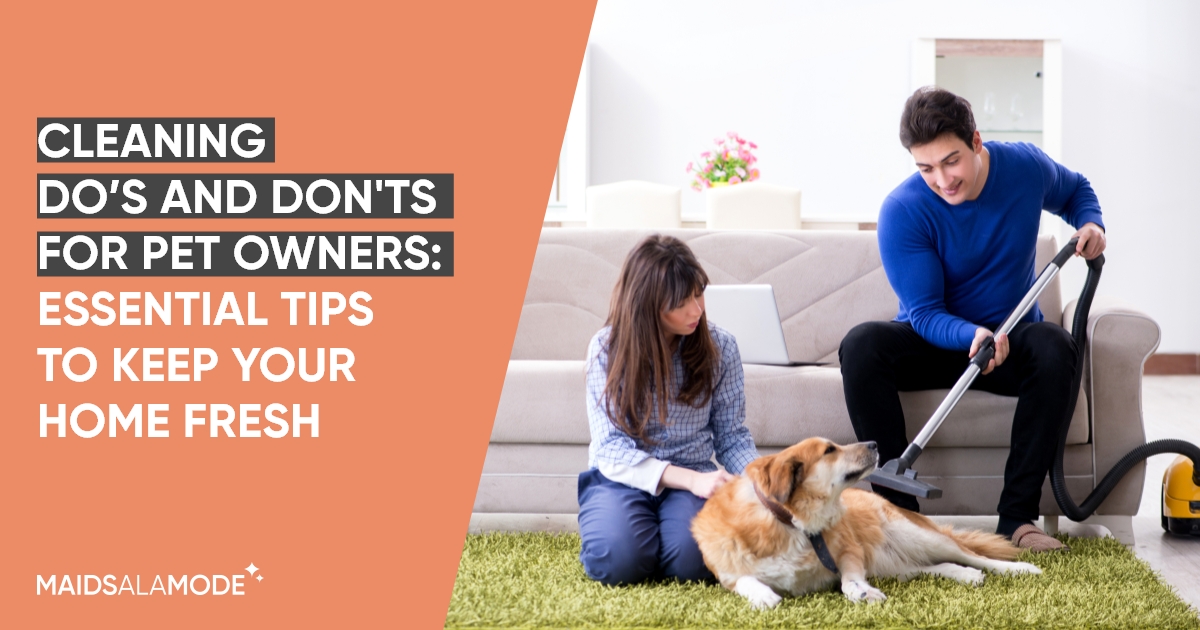 Pets make our life more joyful—but our home messier! Cleaning a place with a playful dog or cat is like living the Sysyphus myth: just when you finish cleaning, you have to do it again! However, there are many good practices every pet owner should embrace to keep their pet happy and the floor and furniture safe from stains and scratches. Please keep reading to discover some cleaning do's and don'ts for pet owners.
Don't use every cleaning product you find
Instead, embrace green products
Commonly-used cleaning products that contain bleach, formaldehyde, and isopropyl can be harmful to pets, especially if they are ingested accidentally. Pet owners should always check if their cleaning products are safe-for-pets! However, it isn't necessary to check the small print on your products' packaging every time. If you want a simpler way, opt for green products like baking soda and white vinegar.
Natural cleaning products are often easy to find, and every homeowner has a couple of them in their cupboard. Being green products, these substances won't hurt your pet and will disinfect, clean, and eliminate foul odors as efficiently as any commercial item. For example, baking soda serves as a powerful cleaner combined with a mild detergent and will clean your pet's bedding and even urine stains (not to mention it helps eliminate bad odors). Essential oils are also excellent to give a fresh fragrance to your home, and they can even calm your dog.
Don't wait for accidents to happen
Instead, be prepared with easy-care throws
While shopping online, fill your check-out cart with several tools that will simplify your pet owner's life and prevent stains, dirt, and other accidents. For beginners, easy-care throws are essential to keep hair at bay and reduce dog odors. Just cover your pet's frequent nap spots and furniture that you don't want to be stained like a comfy couch in the living room. These coverings are conveniently easy to wash so that you won't have a problem getting into the habit.
There are many useful tips to prevent pet-accidents. Buy chew-free electrical cords to wrap up your cables and avoid any teeth from tearing them up. Also, you can find in the market convenient paw cleaners for when you and your four-legged friend return from a walk or even buy a bandana for your messy-eater dog. Last but not least—for those who have a more generous budget—a robot vacuum cleaner is a perfect purchase to give your home frequent cleanings and avoid hair accumulating on your floors and furnishing.
Don't skip walks or play-time
Instead, give your pet the chance to exercise
Frequent pet walks have many benefits, even if you don't go far; simply take a stroll with your dog or cat around the neighborhood or in your yard. Not only will your four-legged friend exercise and stay healthy and happy, but also they'll have a chance to release stress. A dog that walks often is less likely to destroy your things or scratch your furnishings! Also, creating an outdoor routine will help your pet regulate their digestive tracts and prevent indoor pet-accidents.
It's equally essential for cats to get plenty of exercise and diverse activities and objects to stimulate their brains. A sedentary or bored cat is more prone to scratching furnishings and walls. Experts recommend playing with your cat and buying a few toys and objects for them to entertain themselves.
Don't duck your grooming and trimming duties
Instead, create fur-care and pedicure routines for your pet
Tired of dusting, cleaning, and vacuuming every week (or even more frequently)? Try giving your pet a daily, one-minute brushing outside of your home—it can be in the garage or the backyard. Surely, you will see a reduction in the fur around the house! These quick sessions will also make your cat or dog bond with you because it's relaxing for most pets.
Keeping your pet's nails trimmed is another crucial matter. Although this activity is more stressful for most pets, it is also vital for limiting unsightly nail damage, not to mention floor damage and scratched furnishing. Currently, there are lots of expertly-designed clippers available online, and some will guarantee there isn't a risk of hurting your pet (every pet owner's fear!).
Now that you learn some top tips for living with pets and keeping a home clean, we hope your cleaning chores are more bearable from now on. However, if you still need some extra help to keep your place tidy and fresh, call Maids a la Mode. Book your service or ask for a quote on our website.