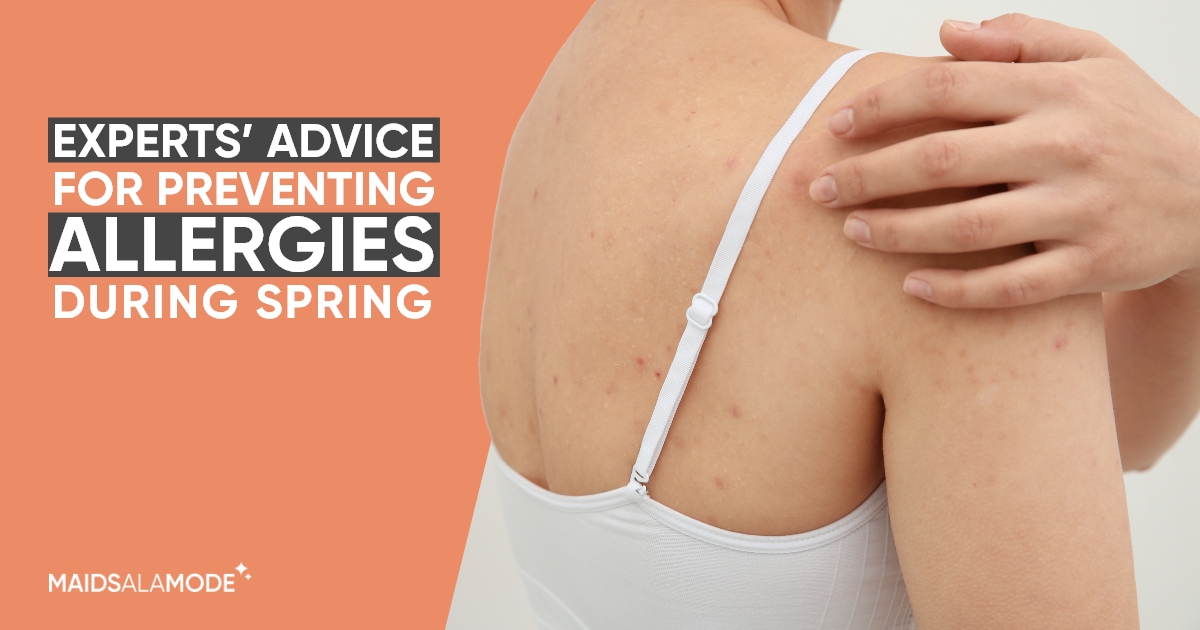 Spring's arrival means it's time for seasonal allergies. Allergy symptoms go from a runny nose to breathing problems, and avoiding them is the best option to protect your health. But don't worry: experts can teach us how to control spring allergies. In this blog, we gather the best medical advice to prevent and control allergies during this season.
1. Know your pollen counts
After the cold days of winter, trees and grass come back to life and start releasing microscopic pollen into the air. Airborne pollen is likely the primary reason you are having allergy symptoms during springtime. Physicians recommend being aware of pollen counts reported on the news, websites, or newspapers. This information allows you to protect yourself by wearing sunglasses and other protective gear.
2. Stay indoors
The most effective way to prevent spring allergy symptoms is to avoid contact with allergens. Dr. Kirsi Jarvinen-Seppo recommends putting off outdoor activities when the pollen count is higher—usually on warm and dry mornings.
3. Don't carry pollen into your home
When you come home after your activities, pollen particles likely settle into your clothes. After arriving home, change clothes and shoes to prevent pollen from spreading into your furnishings.  Dr. Neutze recommends taking a shower on arrival. To avoid allergens on your bed, never sleep with the clothes you wear outside.
4. Keep your home clean and clutter-free
Spring cleaning plays an essential role in easing seasonal allergies. Dust, mold, and dust mites are indoor allergens that only go away after deep cleaning. Launder the bedding with hot water, vacuum your mattress, and dust hard-to-reach places to ensure an allergen-free home.  Don't forget to declutter during your spring cleaning; piled-up objects can gather a significant amount of allergens.
5. Make your floor allergy-proof 
Your carpets might have tons of allergens under their piles.  A vacuum cleaner with a HEPA filter can handle microscopic allergens; otherwise, you might end up scattering allergens in your room while trying to clean. A permanent solution would be replacing wall-to-wall carpets with hardwood or linoleum flooring. 
6. Keep your indoor air clear
Dr. Jarvinen-Seppo advises using your air conditioner on hot days instead of opening the windows. Relying on your air conditioner reduces the allergens entering your home. However, your system needs to be able to handle small particles. Like vacuum cleaners, air filters need a HEPA filter to manage microscopic allergens. 
7. Identify your allergies
Many trees and types of grasses can trigger an allergic reaction, but that doesn't mean you are allergic to all of them. Although seasonal allergies are often self-evident, experts suggest looking for a test to identify your allergies better. Knowing what allergens to avoid can make dealing with spring allergies more manageable. 
8. Go for the right treatment
There are many options when it comes to treating spring allergies. In mild cases, evading allergens and over-the-counter medications can work. However, when symptoms are severe, the top choice is looking for specialized help and looking for medical treatment to prevent allergies during spring. For example, Dr. Sunit P. Jariwala mentions that allergen immunotherapy could be a long-term option for allergies.
Clean your home, and don't let spring allergies take over this season. If you need help with spring cleaning, Maids á la Mode can help you! We are a local and reliable cleaning service. Get your quote now!