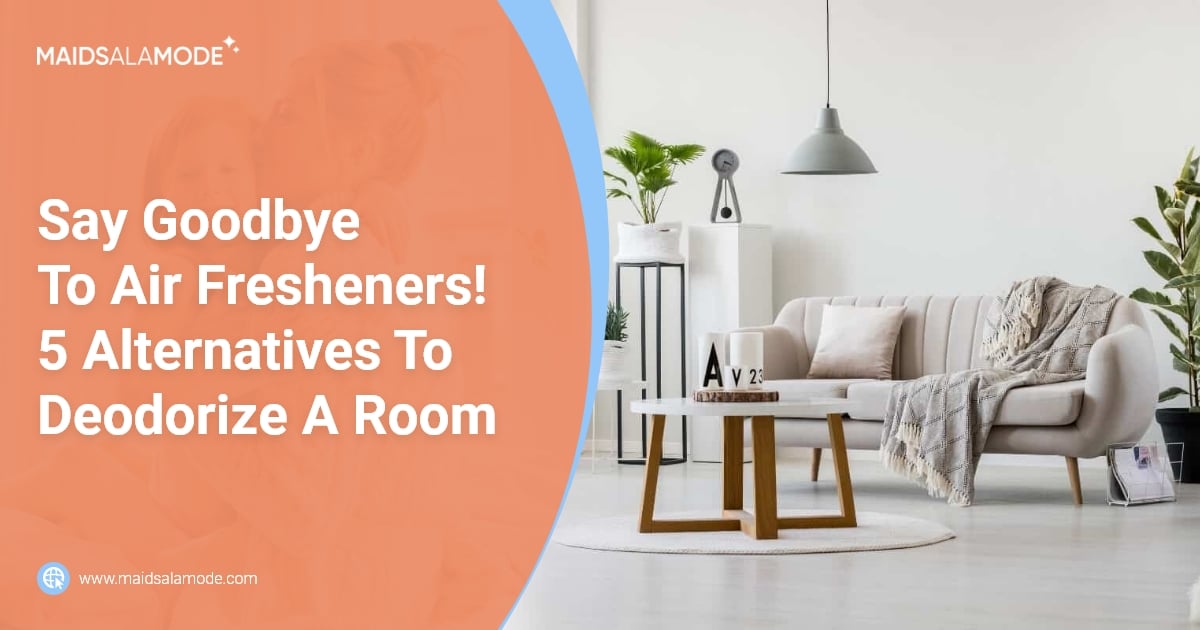 A smelly room can completely ruin the mood in your home. The obvious solution would be to cover or eliminate the odors. However, commercial air fresheners contain many chemicals that cause indoor air pollution, and some have such intense scents that they can cause headaches.
Fortunately, air fresheners are not your only option to battle unpleasant smells. Check out these five natural alternatives to deodorize a room.
Alternative #1: Coffee
Who doesn't love the smell of coffee in the morning? Like most air fresheners, coffee has a great scent to cover the bad smells, but unlike them, it does so naturally. 
Besides, coffee doesn't need to be fresh to neutralize foul odors; you can aid the environment by employing used coffee grounds as your home deodorizer!
Alternative #2: Essential oils
Essential oils are taken directly from plants, fruits, or trees, making them a natural alternative to regular air fresheners. The best thing about essential oils is that they come in almost as many fragrances as commercial air fresheners but without any harmful components.
So, if you're looking for a chemical-free and safe deodorizer, this is an excellent option without sacrificing your favorite scents.
Alternative #3: Pomander balls
Pomander balls will make the perfect deodorizer if you like citrusy and spicy scents. Making these balls is pretty simple, and you can easily find everything you need at the grocery store. All you need to do is stick cloves into your citrus of choice and hang them up to dry.
These citruses also make for beautiful decorations in your home. Place the cloves in strategic spots to create designs or make a center table arrangement by adding a few leaves.
Alternative #4: Herbs and house plants 
This option is perfect for people interested in growing their own herbs in the kitchen or for plant lovers. 
Growing herbs allows you to use natural products in your meals and leave your kitchen smelling delicious. House plants are not only a great decoration, but they also have a fresh scent that will cover unpleasant smells. All you have to do is place the pots wherever you like and let them liven up the room!
Alternative #5 Potpourri
Potpourri is a mixture of plants, citrus, and spices to create a sort of perfume for rooms and clothing. So, this is an entirely natural alternative to air fresheners that you can make with any fragrance you like. Here are two types of potpourri you can make:
Dried herbal potpourri
The most well-known type of potpourri is the dried type. To make this potpourri, select your preferred fragrant plants or flower petals, like eucalyptus, rose, or lavender—you can even add a few slices of citrus fruits, like lemon or orange. 
After you've decided which scents you want in your potpourri, dry your plants and fruits, mix them and place them in a bowl. These also make for great decoration in any room you put them in!
Simmering potpourri
To make this potpourri, place water, some fruit slices or peels, and the spices of your preference in a pot—you can also add some herbs for a more earthy smell.
The simmering potpourri will leave your kitchen smelling amazing while it's preparing, and after it's done, you can place it in another room to take the delicious aroma to your whole house.
Keep your home odor-free with a cleaning routine
The best way to have an odor-free home is to clean it constantly. However, keeping a cleaning routine is easier said than done—you may not have that much time to spare, and cleaning every day would consume all your free time.
However, with Maids à la Mode, you can get a clean home free from unwanted smells without spending all your free time cleaning. Book your cleaning service now!