Some people simply aren't that good at cleaning. They don't know how to stay organized and efficient or can't handle the cleaning workload. Luckily, you can easily get better at cleaning if you follow a few simple tips and tricks. Of course, if you have no time to deal with chores at all, you can always get a trusted maid in Point Clear to help you.
However, it's still useful to learn how to clean your home more efficiently. This can come in handy if you have to get your home in order for unexpected guests. And once you find a cleaning approach that works for you, this boring task will become less of a hassle.
How do you finish household chores fast?
Whether you're on a really tight schedule or need to make your home sparkle the very last minute, there are a few techniques that can help you clean your home fast. You may have to try a few or all of them, but eventually, you'll find what works for you the most.
Here are some of the best tips on quick house cleaning:
Do one thing at a time. Don't try to clean everything at once, jumping back and forth from one task to another. Instead, focus on one chore and don't stop until you finish it.
Clean one room at the time. The same goes for your rooms – finish cleaning one area before moving to the next one. This way, you won't have to move your cleaning supplies around.
Clean from top to bottom. This is another simple way to make cleaning your home more efficient. If you start from the top, cleaning the lighting fixtures, and move downward, you'll make sure dust and dirt end up on the floor where you can easily vacuum it.
Set your priorities. If you need to clean your home fast, you won't be able to clean everything, especially not in detail. So, you need to decide which are the must-clean areas around your home. Typically, they include the bathroom, kitchen, and living room.
Don't do it yourself. Getting some help with cleaning will speed up this process significantly. Your husband should help you out with cleaning, so don't hesitate to ask for help. You can also assign the household chores to family members and clean your home together.
Clean regularly. If you take the time to clean your home on a regular basis, you'll prevent clutter and dirt from building up, which will make your cleaning sessions easier and more efficient. Instead of spending hours cleaning your home in a single day, you can do 15- to 30- minute cleanings each or every other day.
How do you organize household daily chores?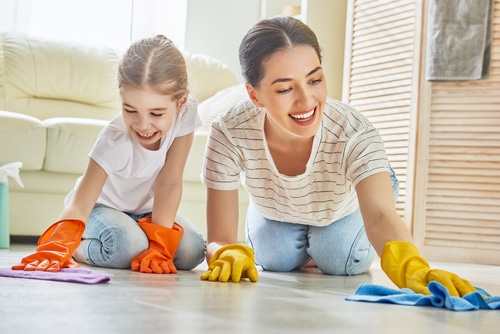 When cleaning your home, certain chores require your attention daily because they can affect your health and the appeal of your home. Luckily, these tasks are quite simple, so you won't have to spend too much of your time doing them.
To be as quick and efficient as possible, you should organize your daily chores. Here's how to do it:
Make a list and stick to it. You should list all the chores that should be done on a daily basis. These include making the bed, decluttering, wiping the kitchen counters, etc. You can separate them into different groups depending on the area where you need to clean.
Schedule your daily cleanings. Decide when you'll finish your daily chores. Do you want to do it as soon as you come home from work and spend the rest of the evening relaxing? Or do you want to catch a breath first and deal with chores before you go to bed? It's up to you!
Let the best maid team in Point Clear make your life easier
Instead of spending day after day cleaning, why not soak up the sun and enjoy the beautiful setting sun by Mobile Bay? Just contact Maids à la Mode and we'll send the best cleaning professionals to take over your chores. You won't have to deal with daily cleanings, deep cleanings, or any other form of housework. The cleaners we send are eager to help you out and make your life easier.
What's more, they offer dependable green cleaning services that can free your home from toxins and make it healthier for you and your family. We help you live smarter – make an appointment today!