Cleaning your home can be extremely tiring, especially when you have to juggle between your family, work, friends, and numerous other household chores. If you feel that all of this is too much for you to deal with on your own, the best solution is to hire a reliable house cleaning company. The professionals cleaning services in Mobile AL will make sure to meet your cleaning needs and don't let the clutter and dangerous viruses like the COVID-19 affect your life negatively.
Another great solution is to split your household chores with your partner and include your kids as well. This way, not only will you get help, but you'll have a chance to teach your children the value of cleaning from an early age.
Here is what you need to know before easing them into the whole cleaning routine: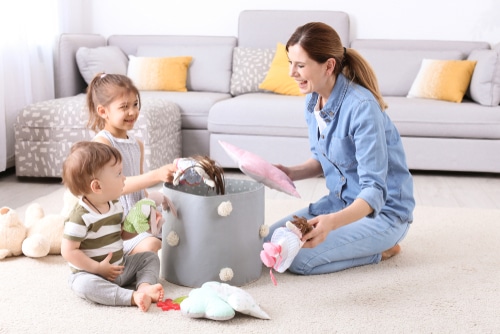 At what age should a child clean up after themselves?
For things to go smoothly, you need to keep in mind the age and abilities of your child. Tasking them with too complicated household chores can be extremely counter-productive.
Doing this can lower your child's self-esteem and discourage them from the very beginning. Instead, you can start slowly and gradually introduce new tasks as they are becoming more dexterous. In general, by the time your child is 16 to 18 months old, they should be capable of performing some simpler tasks like putting away their toys and clothes instead of leaving them scattered all over the floor.
However, don't forget that every child develops at their own pace. So, even if your child needs a bit of reminding at the beginning, there is no need to worry or push them too hard. It's important that you set clear rules so that they know what is expected from them.
What are the age-appropriate chores for children?
Here is a chart that can help you decide what the most appropriate cleaning tasks are at what age:
2-3 years:
Put away their toys. Children at this age are still very young and the concept of cleanliness can be a bit abstract to them. So, instead of having a serious talk with them about how messy their room is, you should try to turn this chore into a game. For instance, you can play your child one of the fun clean-up songs and organize a competition to see who can put more toys into the basket.
Sort their clothes. The best way to make this task more interesting is to ask your child to sort their clothes by color. This will help both their sensory and motor skills development.
Let them learn from you. Although it's too early to let your child vacuum the carpets or wash the dishes, you should encourage them to be present while you are doing this. Don't be surprised if they try to follow you around and imitate your actions.
4-5 years:
Get dressed. They probably won't need much help at this time, but be ready to jump in if needed.
Clear the table. At this age, you can ask your child to clear the table after they are done eating. They can pick up the utensils and their plate, and bring them to the kitchen. Just make sure not to let them play with sharp knives and hot pots since they can cut or burn themselves if they are not careful enough.
6-7 years:
Make their bed. This should be a piece of cake at that age.
Dust the shelves in their room. This is a super-easy task for a 7-year-old. However, if the shelves are too high and your child cannot reach them without climbing on a chair, you should be there to help them out and monitor their work.
Fold their laundry. This may be tricky at first, so be patient. You cannot expect perfection from the beginning, but you should definitely encourage them to put more effort into it and keep practicing.
Book the best house cleaning services in Mobile and beyond!
Keeping your house clean with little kids, or a demanding job can be super-hard. You may end up not having enough time for your friends, family, or even a short walk at Herndon Park. Luckily, Maids à la Mode is here to help! We will match you with the licensed, experienced cleaning experts, who are ready to work around your schedule and meet your special requests.
Maids à la Mode specializes in different cleaning services, including standard and deep cleaning, move-in/move-out cleaning, post-construction, and rental properties cleaning. All we desire is to make you happy and leave you fully satisfied with our service.