Moving can be quite overwhelming, and when you add the stress of cleaning to it, you are more than likely to end up suffering from a nervous breakdown. Fortunately, there is a solution – if you live in Baldwin County, research move in/out cleaning services in Daphne and the nearby area and go with the most dependable one.
You'll get assistance from the top-tier, licensed cleaning crew who will help you finish moving quickly and painlessly, and reduce any cleaning-related tension significantly. On top of that, you'll be able to focus on other important aspects of the move and accelerate the entire process.
Why should you hire a cleaning service when you move?
If this is your first time moving, you probably cannot grasp the amount of cleaning and preparation it entails. So, instead of having to deal with all that on your own, call the experts and book an appointment today. Here is why:
Get your deposit back
If you rent your current home, you'll need to make it sparkling clean, unless you want to risk losing your deposit. On top of that, if your new home is also a rental property, the last thing you need is a poor review from your current employee.
Attract new tenants
On the other hand, if you own your current home, you have even more reasons to take cleaning seriously and hire assistance. They will help you declutter the place efficiently, as well as prepare your new residence for moving in. Investing a bit more money in the cleaning process now will pay off in the long run since you will attract more potential tenants. After all, there is nothing as appealing as a spick and span house.
Cut down on your stress
Moving brings along many positive feelings, but at the same time can turn your life into a nightmare. Just deciding on what areas you need to clean before moving out can be dreadful and overwhelming if you are occupied by hundreds of other questions at the same time.
Having in mind that stress is the silent killer of modern society, you should not hesitate to call your cleaning service provider now. Let the experienced cleaners do the job for you. You can even use this opportunity to unwind and visit the amazing Daphne Civic Center.
Allow yourself to focus on other crucial aspects of your move
Getting both your old and new residence in great shape when moving is just the tip of the iceberg. After you have spent horse packing your belongings and making arrangements with a moving company, you definitely won't feel like cleaning.
Save energy and time
Giving your house a good deep scrub is extremely time-consuming. You'll first need to go shopping for all the necessary tools and supplies. This will set you back a significant amount of money, and you'll still need to do everything on your own.
So, instead of bothering with all of this, contact your trusted cleaners today. They will sanitize the entire place from top to bottom and remove a huge burden from your shoulders. You'll finally be able to direct your energy into other urgent issues and stay on top of the moving game.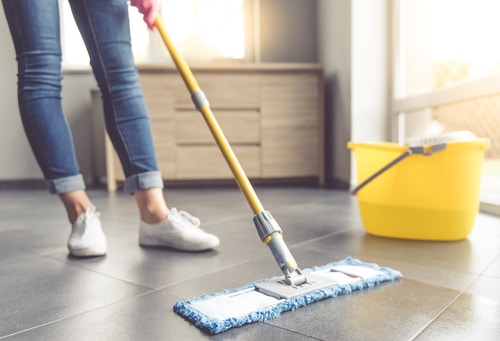 Looking for proven move-in/out cleaning services in Daphne?
If you're looking for a qualified cleaning crew to help you during your move, you are in the right place! Here at Maids à la Mode, we offer a great number of services, including basic and deep house cleaning, post-construction cleaning, rental cleaning and, what interests you the most, move-in/out cleaning services.
We work exclusively with the insured cleaners who have many years of experience under their belt. What's more, our 100% satisfaction guarantee is obvious proof that we settle for nothing less than sheer excellence. Reach out to us today and let us help you have a stress-free move!