As an essential part of the moving process, move in cleaning will help you get everything ready before you settle in. You'll get to move into a clean, healthy home with a fresh vibe. However, learning what move in cleaning actually entails will help you complete this task like a pro.
What's more, if you don't know how to handle a move in cleaning, finding out a few helpful tips beforehand will help you clean your new home more thoroughly and efficiently.
However, hiring move in cleaning services in Mobile, AL might be a more time-saving and effective solution, especially for busy professionals and families. Either way, you should learn the basics of move in cleaning.
What is included in a move in cleaning?
Booking move in cleaning services is a great way to save time and make the process of moving significantly less stressful and tiring. While your cleaning team handles the chores in your home, you can explore Mobile's charming attractions such as Mobile Museum of Art or use the free time to transfer your utilities to a new home, book a moving company, etc.
You might be wondering what a move in cleaning team will do while you take care of other obligations. If you want to know what to expect from move in cleaning, you can always discuss it with your preferred provider. This can also provide you with valuable information about their services and help you get a move in cleaning that meets your needs.
Typically, a move in cleaning will cover some of the following tasks:
Oven cleaning
Fridge cleaning
Cleaning the inside of your cabinets
A comprehensive list of thorough deep cleaning tasks
This means that professional move in cleaning covers all the regular cleaning tasks in combination with additional deep cleaning chores and a few extra services.
How long does a move in cleaning take?
You should book move in cleaning services in advance to make sure that everything is ready for you to move in. A move in cleaning session won't take too much of your time. In fact, if you hire the pros, it will take none of your time because your cleaners will handle everything for you.
Still, you should know how long such a service will take so you can plan your moving schedule for maximum efficiency. Of course, there's no one answer to this question because several factors may affect how long your move in cleaners will need to clean your new home, including:
Current hygiene levels: If your new home is in poor condition, the cleaners will need more time to make it sparkle.
Size. Cleaning a one-bedroom apartment will take significantly less time than a five-bedroom and two-bathroom house.
Your requests. If you have some special cleaning preferences that you'd like your cleaners to accommodate, they may need more time to customize their approach to your needs.
Location: Certain locations may affect the cleanliness of your new home, bringing more dust, dirt and other pollutants.
What is the best way to do a move in cleaning?
If you want to do your move in cleaning without professional assistance, you should: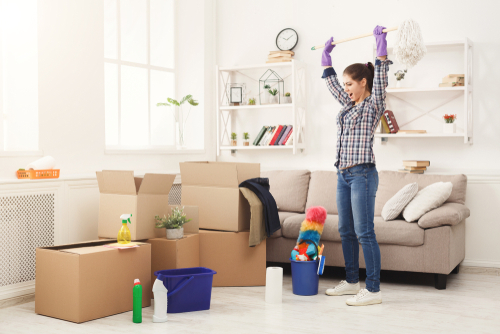 Create a plan and stick to it
Clean in an organized way
Gather all cleaning supplies
Clean with safe, green products
Clean from top to bottom
Clean one room at a time
Get help from your family
Stay persistent and don't give up
Top Mobile, AL-based move in cleaning services at your disposal
You don't have to deal with tiring move in cleaning chores on your own. You can just get in touch with Maids à la Mode and we'll send a team to help you out. The cleaners we work with are experienced, professional and insured, so they can take care of everything in no time.
Booking their services is hassle-free because we've designed an easy-to-use scheduling platform. The maids we team up with also provide extensive move out cleaning if you need help with getting your deposit back. You just need to make an appointment at your convenience, and we'll send the best of the best!